Welcome to the Halibut Fishing Capital of Alaska! And in our opinion a YEAR ROUND fishing playground for terrific saltwater king salmon, summer & fall silver salmon, and rockfish fishing. With ice free seas and mild winter temperatures Homer is an ideal location close to Alaska's largest population area where anglers who just can't get enough fishing now have open water opportunities all year long.
In fact, we are on the water 200+ days a year!
SPRING 2016 and Beyond -

Hey Folks, Captain Shane here. As we transition from the beginning of Spring to our Summer operations we can't be more pleased with the prospects. El Niņo provided some exceptional king salmon fishing all winter long with above average temperatures in the air and water. Limits on the boat were the norm for nearly every trip we made. From mid-summer in July and beyond the fishing will get fast and furious. No matter whether you are taking a guided fishing charter to hunt for halibut, rockfish, or the five Pacific salmon, Cook Inlet and Kachemak Bay fish populations will be increasing each day as the salmon runs begin throughout Southcentral Alaska and the big halibut move into our coastal waters. Not to be left out is the Lingcod season beginning July 1st.

SALMON - The feeder King salmon fishing this winter and spring was phenomenal. The numbers indicate very healthy survival and fish almost everywhere we fished. And so we have king salmon fishing opportunities throughout the summer. As the migrating salmon runs begin in all the nearby streams our salmon charters frequently get a mix of kings, pinks, chums, even a few sockeye and a bit later the coho salmon start moving through. Silver salmon fishing is an Alaskan favorite whether you fish the saltwater or the freshwater streams.

ROCKFISH & LINGCOD -

The Black Rockfish are packing a lot of weight this year for those we specifically target on our Homer combo salmon/rockfish or halibut/rockfish charter trips to more distant fishing grounds. And for those wanting the ultimate fishing charter experience, from July 1st on we offer the Multi-Species Long Range fishing charter that includes Lingcod as well as rockfish and halibut all mixed into one long day on the water. You can view the typical catch of this type of mega charter trip in the last slides in our slide show. This trip is Weather-Permitting due to its extensive travels to many distant fishing grounds.

HALIBUT - Halibut fishing with Driftwood Charters in the 2015 season was as good as it gets. A 200 pounder in June held the lead in the Homer Halibut Derby for a while. We put some great catches in the fish box. The new fishing regulations now require one of the two halibut to be under 29" and the other can be any size. That didn't stopped our guests from taking home some impressive fish boxes on their charter fishing trip as the photos show.

COMBO FISHING - You name it, we got it. Salmon-Halibut, Salmon-Rockfish, Halibut-Rockfish, and sometimes Salmon-Halibut-Rockfish. Most Alaskans and the smart visitors will opt for this charter fishing trip. For the little extra cost to add another species to the day's fishing the rewards in the fish box you take home prove to be worth the cost. Plus you end up with both bottom fish and wild salmon to give you a variety of choices in the kitchen when fish is on your menu.


Remember that our area still maintains a two halibut limit per person.

On June 27th one of our derby ticket holding anglers released a 73 inch 205 pound halibut while fishing which qualified him for a chance at the Catch and Release drawing for a $500 cash prize. This category is to encourage conservation of the giant female spawners to insure future generations of good catches.

Our offshore salt waters are filled with an abundance of younger King salmon (feeders) from hatcheries and healthy wild stocks all along the Pacific West Coast from Canada to Oregon that are providing an exceptional fishery as you can see by the many salmon photos. These areas are stocking 252 MILLION King salmon in the ocean each year and those fish along with wild sources migrate to Alaskan waters to feed and grow and eventually return to their home waters to spawn. We are the beneficiaries of those programs and our reward is some incredible King salmon fishing 365 days a year. Our motto: We never close! So if you need your 2016 King Salmon FIX, whether you are a traveling visitor or an Alaskan looking for a chance to land a King salmon this summer, look no further.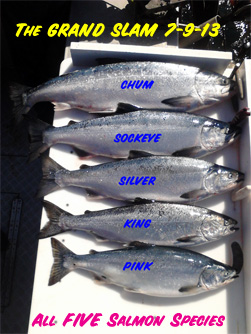 Our Objective
is to satisfy the customer so its important for you to choose the type of fishing trip you are most interested in. Some prefer to engage in a trip for a single species like all halibut or just salmon fishing. The more adventurous types may opt for one of the many Combination (COMBO) charter trips. Halibut/Salmon, Halibut/Rockfish, or Salmon/Rockfish are all offered for those wanting to experience the thrill and challenge of fishing for multiple species in the same day. These charter trips cover more water as the fish are in different areas so we will be traveling more miles. We don't have any fuel surcharges like other charters. Its all just built into the price.
DRIFTWOOD CHARTERS is proud to be one of the rare sponsors on the ALASKA OUTDOOR JOURNAL website which provides real-time fishing information all season long.
The photo at right documents one of those RARE days in Alaska saltwater fishing when all five Pacific Salmon species are within reach on a single trip. Of course you still can't make them bite but when you have so many different possibilities of what is on the line its a lot of fun keeping your fingers crossed that the next fish is one that still needs to be caught. This was our day and all before 10am July 9th. And we ended that 2013 season with THREE GRAND SLAM SALMON days.
Good Luck and Good Fishin' to ya, Captain Shane

SPRING ~ SUMMER ~ FALL Full Day Homer Saltwater Fishing Charters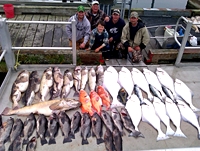 DRIFTWOOD CHARTERS
prides itself in being a one-of-a-kind operation where every trip on the water is
"customized"
to the varying conditions of the day. This is no cookie cutter experience where day after day anglers are hauled to the same old spots regardless of the conditions or the willingness of the fish to bite. Captain Shane Blakely optimizes each day's success by utilizing not only his personal knowledge and experience on these waters but also a wealth of real-time information derived from his network of other skippers pooling their firsthand daily catch information for the benefit of the entire group. Armed with this information and a willingness to discuss the day's fishing prospects with his clients as they head out results in a trip most suited to the goals of the anglers on board. Captain Shane offers a variety of trips from single species adventures to that "combo of a lifetime" you'll never forget. The combination (combo) charters are always dependent upon the season and availability of certain types of fish as well as weather conditions so its imperative you discuss your fishing goals with Shane before choosing your booking dates to insure the potential for success.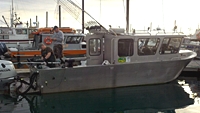 The M/V MISTY is a custom built thirty foot all aluminum welded boat designed specifically for the coastal waters and marine environment of Southcentral Alaska. It meets all Coast Guard safety and environmental requirements and is powered by new twin 150 horsepower Yamaha four stroke outboards. The boat is designed, licensed and permitted to accommodate six anglers for salmon, bottomfish and halibut charter trips and our roomy deck provides a comfortable fishing experience. High quality salmon and halibut tackle is provided and the boat is capable of running up to four high tech downriggers at a time to maximize the potential for salmon hookups. Complimenting this gear is a top-of-the-line Garmin GPS chart plotter/fish finder for tracking down salmon and mid-water halibut, cod, and rockfish as well as the all important baitfish schools so necessary to improve the odds in the anglers' favor.

~ Fishing Charter Rates ~
Per Person
May 1 - September 30
October 1 - April 30
SALMON
only
$300
$225
Winter Season
COMBO
SALMON & HALIBUT
$350
excluding Wednesdays
& other exceptions ** below
$350
excluding Wednesdays
COMBO
SALMON & ROCKFISH
$350
$275


COMBO
HALIBUT & ROCKFISH
$350
excluding Wednesdays
& other exceptions ** below
$350
excluding Wednesdays
HALIBUT
only
$350
excluding Wednesdays
& other exceptions ** below
$350
excluding Wednesdays
WEDNESDAYS are closed to Halibut Fishing in 2017 by regulation.
** No halibut fishing on these TUESDAYS 7/18, 7/25, 8/1 by regulation.
We offer Salmon or Salmon/Rockfish Combos on the above restricted no halibut days.
Prices do not include 7.5% local sales tax, fishing license & stamp fees, or gratuities.

TIMING FOR SPECIES
PEAK AVAILABILITY (approx.)
Halibut & Rockfish
April 1 - Sept. 30
Silver Salmon
August - Sept. 15
*King Salmon
Year Round
Note: Because Combo trips require fishing multiple locations they are always weather permitting.
Dates are approximate. Contact Shane.

*KING SALMON do not need to be recorded on your license from September 1 through March 31.

Charter departure times vary depending on season. Check in the night before at the INN to confirm. 235-8019.
No surprise Fuel Surcharges!
~ What to Bring ~
We recommend you bring a sack lunch, beverage, layered clothing, rain gear, and camera. Boots are not necessary but are highly recommended during the late fall, winter and early spring fishing. Be sure to purchase your fishing license plus a KING SALMON STAMP if salmon fishing.
~ Booking and Cancellation Information ~
A 50% deposit is required to guarantee your reservation.
Should your plans change, you must give 30 days notice to receive a full refund of your deposit.
If something unforeseen comes up and you fail to cancel in the allotted time period we will make every attempt to re-book your seat on the boat. If we are able to re-book your seat, you will receive a refund less a 5% ($5.00 minimum) processing fee.
If the captain cancels the trip prior to launching due to weather, you will receive a full refund.
If the boat goes out but must return due to weather prior to fishing, you will receive a 90% refund.
If the boat goes out but is forced to return once fishing has begun, you may receive up to a 50% refund.
NO Show/NO Call: Please check your confirmation carefully; if you cancel within 12 hours or do not show; 100% will be charged.